Geneva - 1 December 2017 - With over 40 million men, women and children in modern slavery according to the most recent ILO estimates, slavery is not a thing of the past.  There are slaves working on every continent, in every country, in all types of industries and even in people's homes.
Modern slavery affects children and rural communities around the world, with 11% of victims working in agriculture and fishing.  The ECLT Foundation is committed to engaging communities, governments, unions and companies for collaborative solutions to promote education for children and decent work for adults.
This International Day for the Abolition of Slavery, it is important to see that modern slavery is more present that many people realise.
Modern slavery includes forced labour, human trafficking, sexual exploitation, debt bondage and forced marriage.  Anyone who is forced to work or marry and cannot refuse or leave is a victim of modern slavery. Most victims (71%) are women, many in forced domestic work or marriages.

1 in every 4 modern slavery victims are children. Children are found in every type of slavery from labour to sex trafficking to forced marriage.  The youngest victim of forced marriage from the most recent ILO statistics was 9 years old.

Profits from modern slavery per victim are higher in developed economies. In 2014, the EU and other developed economies made an estimated $46.9 Billion USD in profits from modern slavery.  In contrast, Africa is the region with the highest rate of modern slavery, with 7.6 victims per 1,000 people.

Slavery is also imposed by governments, not only by businesses or individuals. The latest estimates state that over 4 million people are slaves in State labour at any given time. This work can last a few weeks to a few years. Like child labour, modern slavery has complex root causes including poverty, conflict and crisis, cultural perspectives and lack of protective safeguards and legislation.  Understanding the immense scope of the problem is a first step, but strong commitments from governments, employers, workers and civil society are crucial to getting victims out of slavery and ensuring that they have decent work.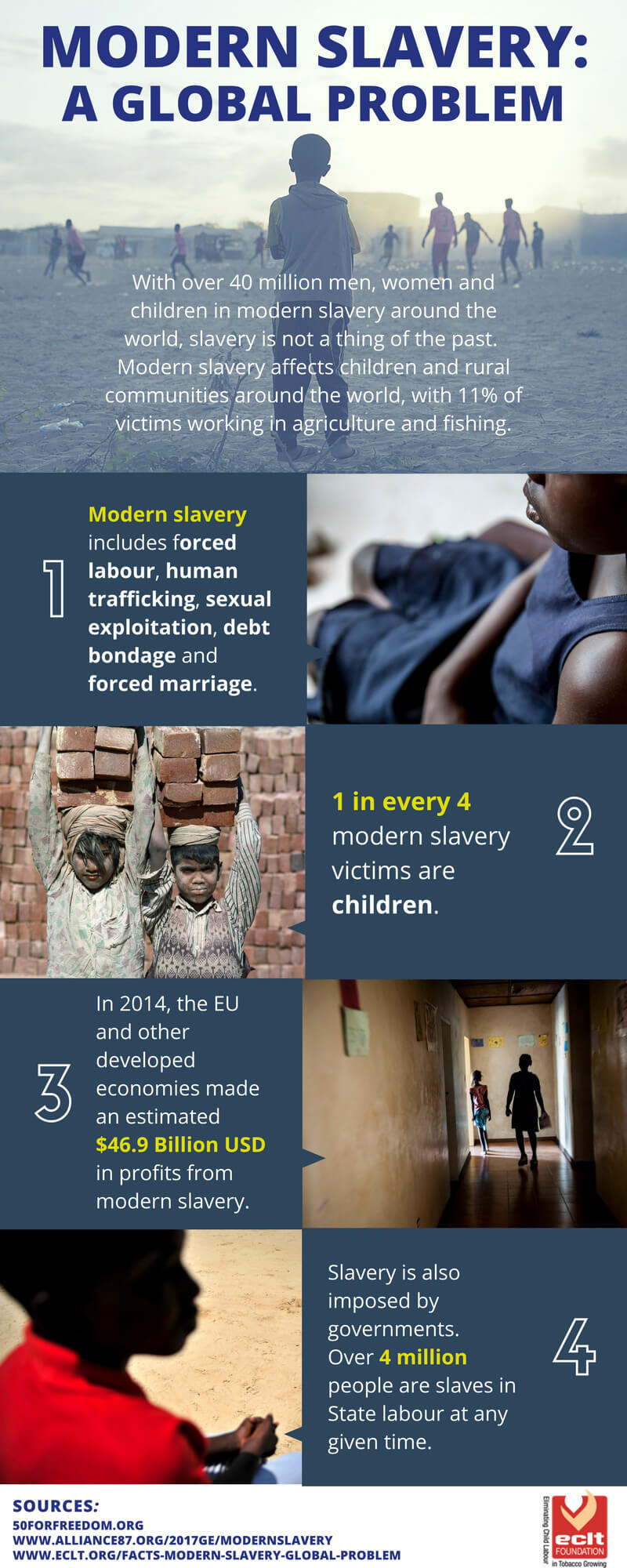 Ressources:
2017 Global Estimates on Modern Slavery at Alliance 8.7
For more information:
Email: media@eclt.org Phone: +41 (0) 22 306 14 44